22

May

FATHER'S DAY
Let Your Dad Know EXACTLY What You Think of Him This Father's Day
15% OFF ALL FATHER'S DAY CARDS!
Unless you are living in your own little bubble it can't have escaped your notice that Father's Day is getting closer. It's hard to avoid it with all those t-shirts, mugs and gushing cards complete with cute little teddy bears or fishing scenes filling the shelves in the stores.
I love my dad to bits, but he's not a fan of gushing sentiment, flowery words and being made a fuss of and this is one of the reasons why he – and many other men – are difficult to buy for. And even if he was a fan of being fussed over, how many "World's Greatest Dad" mugs and Daddy Pig T-shirts does one man need….or want?
Some dads might appreciate a card with a fluffy sentiment and teddy bears but why not go out on a limb this year? Why not tell him how it really is and give him a bit of a chuckle at the same time, with something a little different? And boy do we have the range of cards to help you do just that.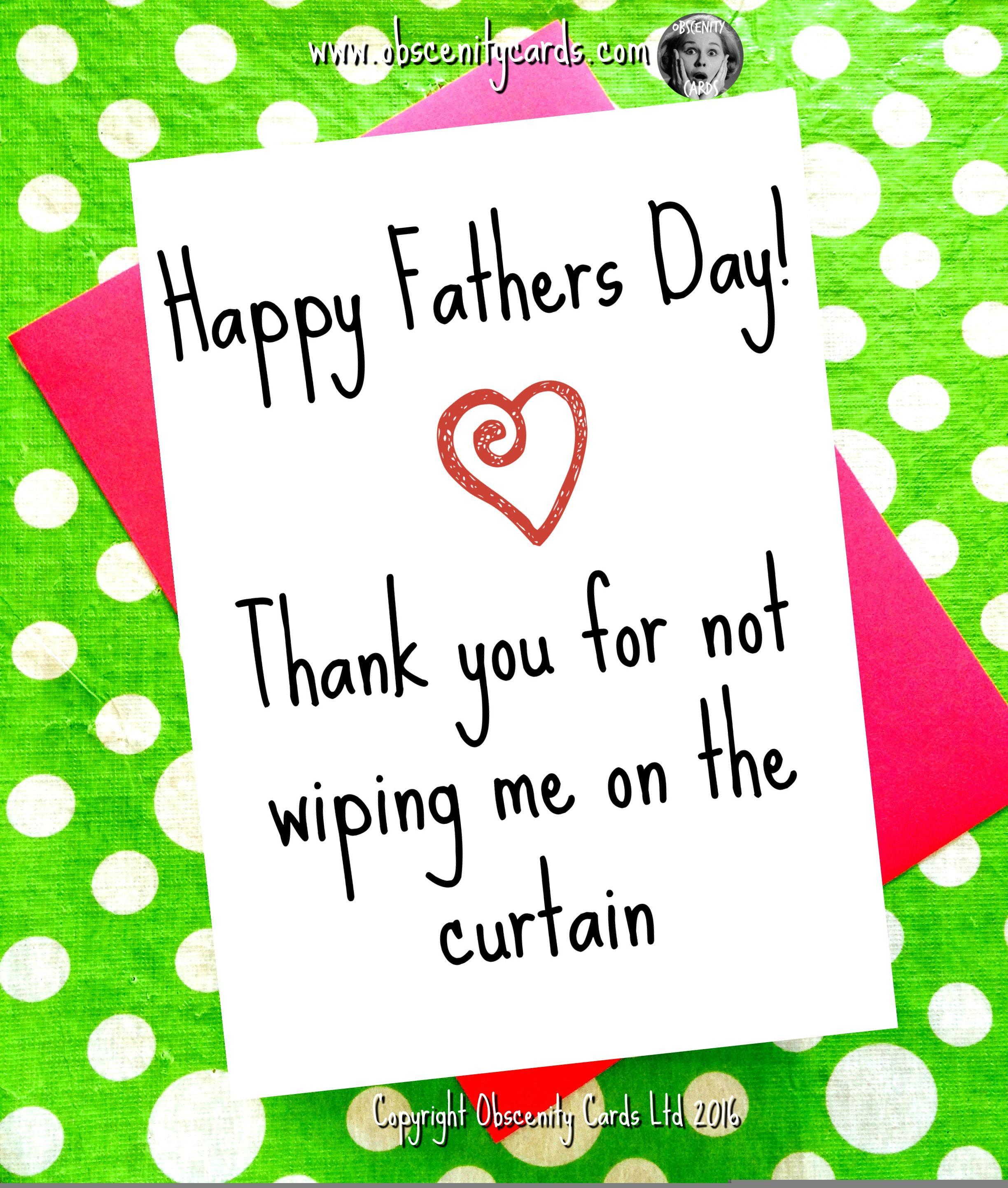 For the father who stepped up to the plate.
As the saying goes "Anyone can be a father, it takes a real man to be a dad" and we have a fantastic selection of cards to let the man who dragged you up know just how much you appreciate the role he has had in your life.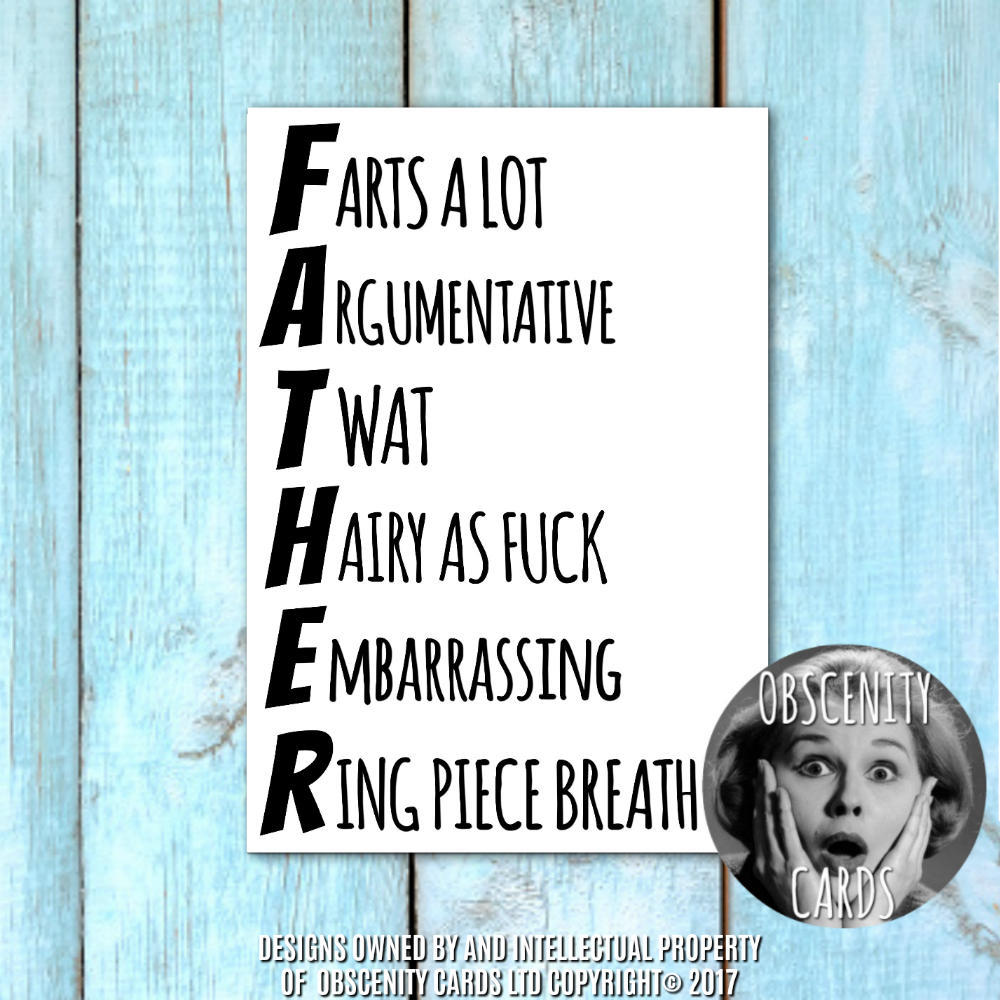 On the flip side we also have a few you could send to your l dad that will leave him in no doubt of your feelings, whether he's crap at jokes, or is, generally, a bit of a twat!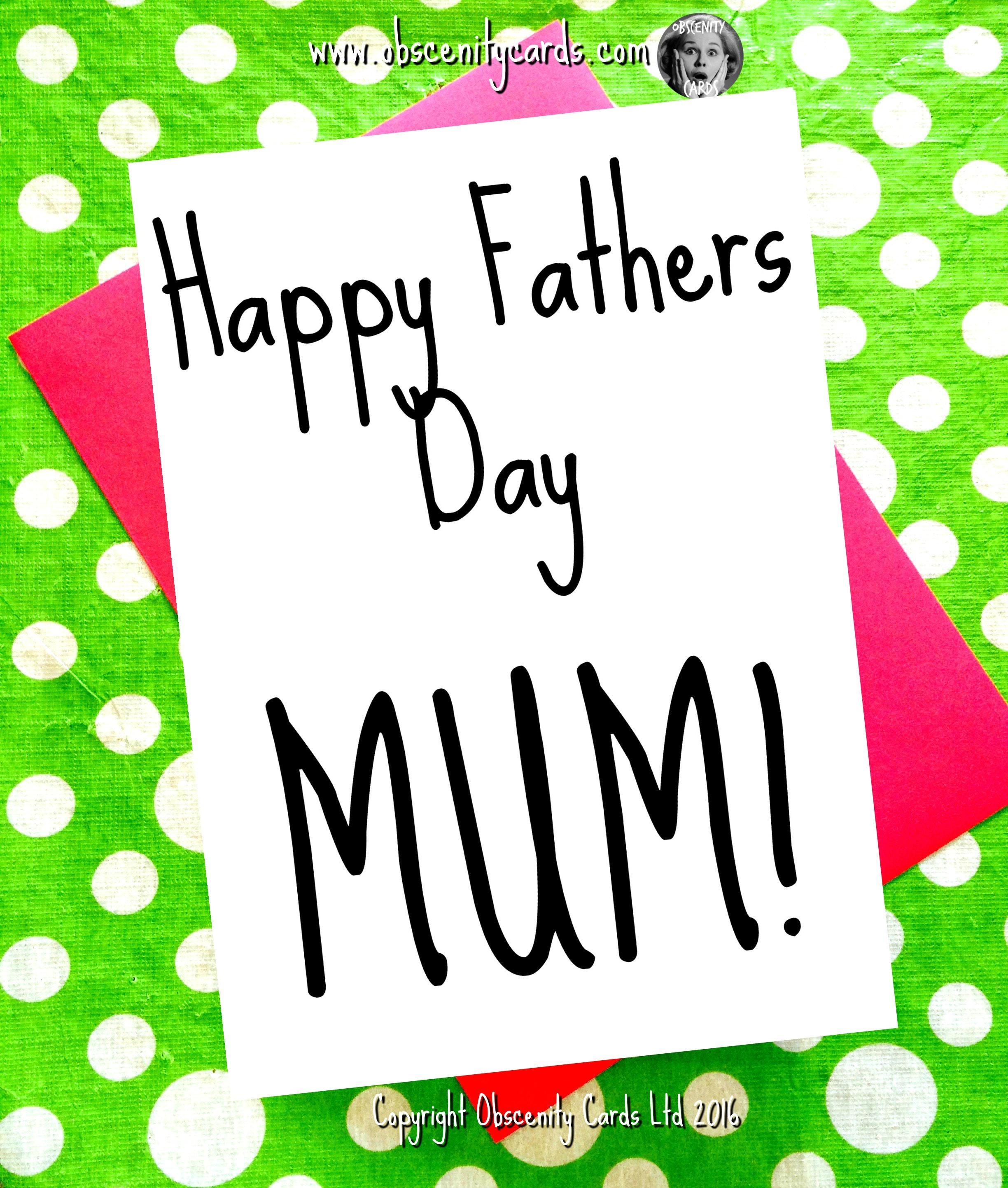 Mums make great dads.
Why not celebrate Mother's Day twice, if your mum has been the only parent in your life then she certainly deserves double the celebration for doing all the parenting so let her know what an amazing job she has done over the years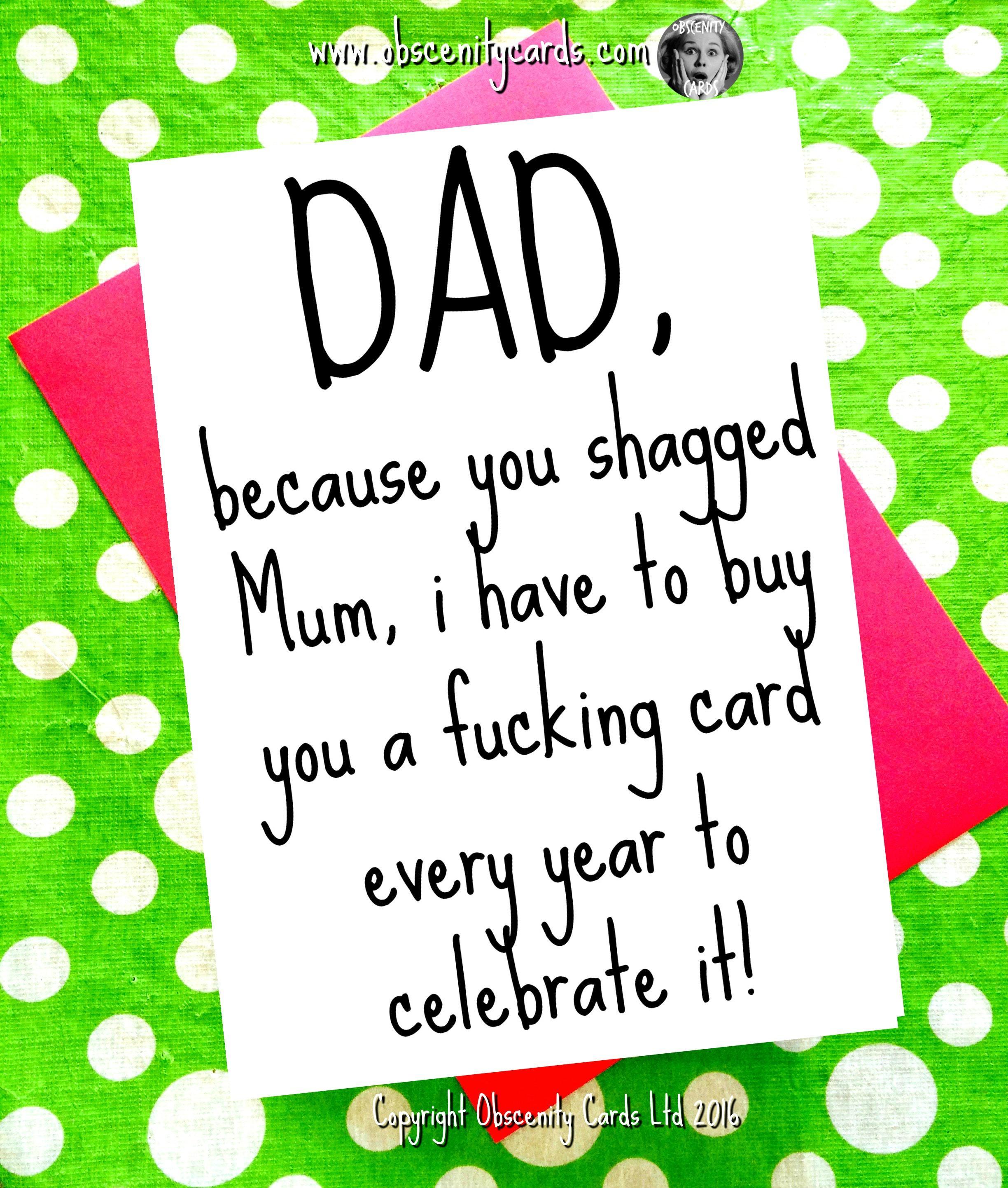 Let's talk about sex….
Well if it wasn't for sex you wouldn't be here and if your dad doesn't mind a bit of fun then you may just find yourself hard pushed to select the best card for him from our delightfully rude selection. So, whether you want to thank him for knocking your mum up or celebrate his little swimmers hitting the mark, you can pick a card that will really have him laughing!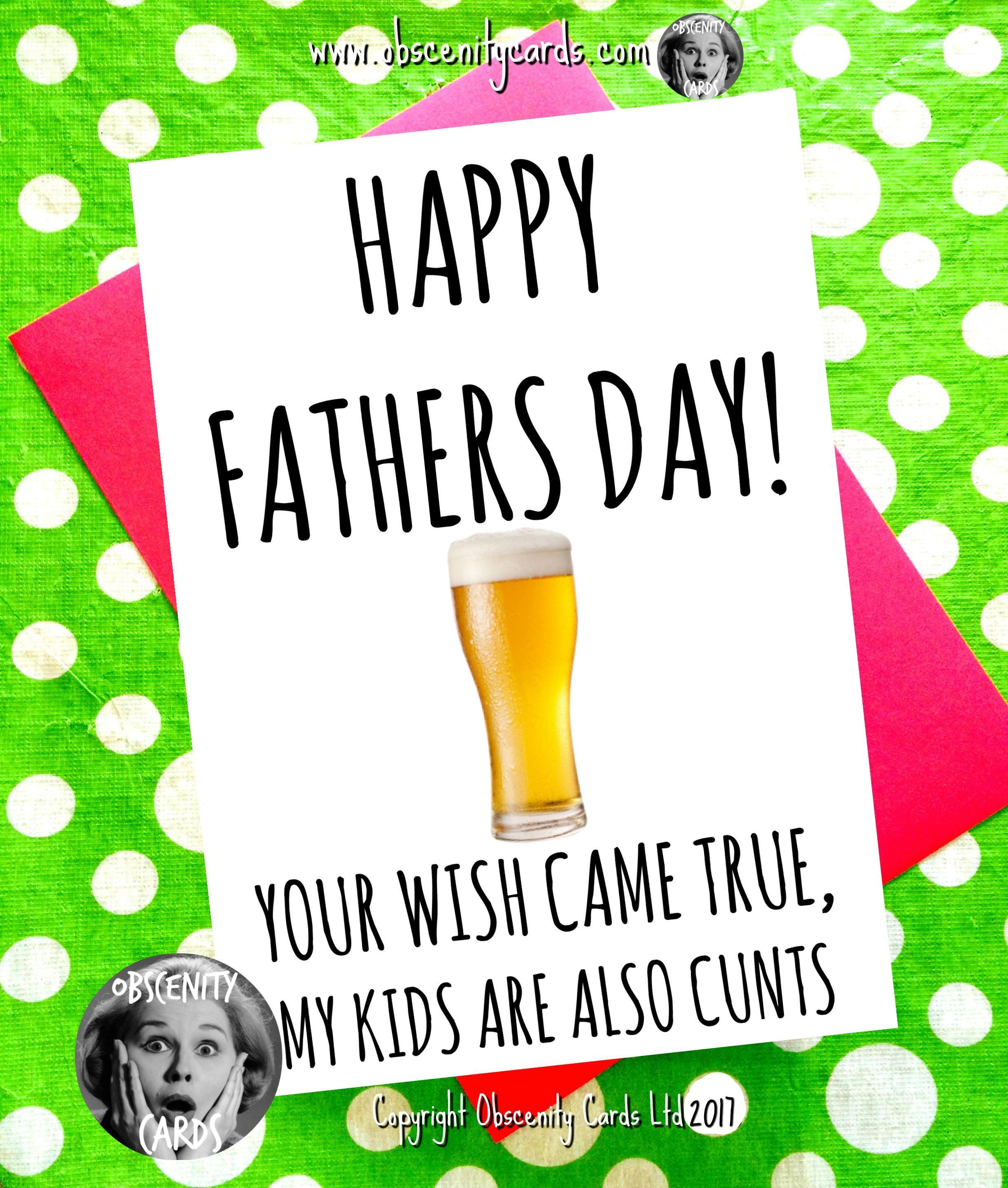 The best present ever
Remember your teenage years, or even earlier, when you were a whining toddler that didn't learn the meaning of the word 'no 'until you were about 19? No? Your dad does, and it's payback time. Why not give your pa a gift he'll really appreciate and let him know how your kids are wreaking revenge on you on his behalf?
The important bit
Father's Day this year falls on Sunday 17th June so if you want to be stuck buying a last minute high street card that really isn't really your style, or your dads, then get your order in – and give your dad a gift he REALLY wants this Father's Day – a bloody good laugh!
---